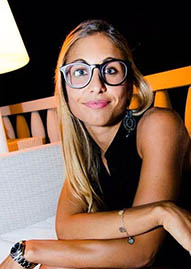 Nome e titolo: Valentina Giannini, post-doc researcher.
Bio: Valentina Giannini is a post-doc researcher at the Centre for Innovation and Entrepreneurship, Università Politecnica delle Marche (Ancona, Italy). Previously, she holds a Ph.D. in Applied Economics at Faculty of Engineering (Department of Information Engineering, Università Politecnica delle Marche) with the Ph.D. thesis on resource allocation mechanisms and the innovative performance in business groups.  She is graduated in Economy and Management at Università Politecnica delle Marche, after a period of study abroad as an exchange student at University of Applied Sciences Upper Austria (Austria).
During the Ph.D. course, she attended two advanced courses in Econometrics and several conferences as relator.
In 2017, she was a visiting research scholar at Fuqua School of Business (Duke University, North Carolina, USA), where she focused her studies on firms' innovative performance.
Areas of expertise: business groups, entrepreneurship, innovation.
Publications (Orcid): http://orcid.org/0000-0002-7027-247X
Researchgate profile: https://www.researchgate.net/profile/Valentina_Giannini3
email: v.giannini@staff.univpm.it
telephone number: 071-2204482
Indirizzo dipartimento: Via Brecce Bianche 12, 60131 Ancona